Today's post is inspired by the weekly meme Life of a Blogger created by Novel Heartbeat. I have a deep abiding obsession love for books, but I still enjoy veggin' out on a good show every once in a while. Keep reading to learn my current boob tube faves as well as my all-time favorite TV shows.
G.O.A.T. TV
I have no idea how I stumbled across Forensic Files. Somehow, it has become staple viewing for me since that glorious day. When I decided to cut the cord, this was one of the shows that had me regretting that decision. However, Hulu finally answered my secret prayers when episodes of Forensic Files showed up as a recommended show. If you enjoy the CSI franchise, then you should add Forensic Files to your list of shows. You can learn how forensic science works in the real world!
When someone asks me what my favorite show is, I usually say it's Gilmore Girls. I have recently learned this is a major fave within the bookish crowd. I chalk that up to the youngest Gilmore Girl, Rory, and her insatiable love for books. Although that definitely made me feel a connection with that character, Also, I related to Rory being a shy, overachiever with a knack for random pop culture references.
I really enjoy the all-around witty, fast-talking convos had by all the Gilmore Girls and their friends. Although it's one of my favorite shows, I haven't done a rewatch of the entire series in a few years. The last time I spent quality time with the Gilmore Girls was during the revival, so it may be time for a trip down memory lane.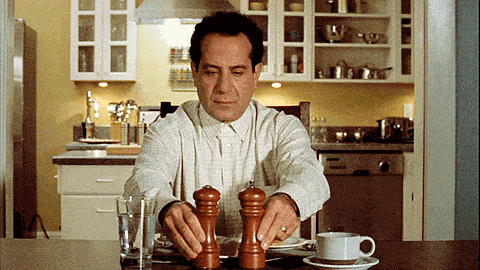 Another favorite is that I recently binged is the show that helped put Monk, the show about the defective detective that put USA Network on the map for fun and quirky dramedies. Even though I know what to expect, Monk still makes me laugh, cringe, and cry. There is a reason why Tony Shalhoub was racking up those Emmys. If you've never watched Monk, then you are in luck because it's finally streaming on Amazon Prime! Go watch it NOW!!
Current Boob Tube Darlings
I absolutely adore Brooklyn 99. I haven't done any rewatches, but I pretty sure I have loved every episode. EVERY EPISODE!! This show is smart and funny and just keeps getting better. The day Fox cancelled Brooklyn 99 brought me to the brink of tears. I love NBC even more for bringing it back!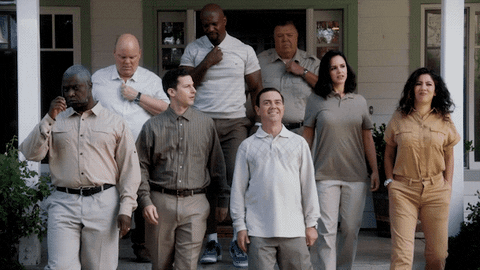 Like Forensic Files, I don't know why I started watching American Greed, but let me tell you, everyone needs to watch this show! If you're trying to avoid getting got for all your dough, then you have to see these the stories of scammers parting folks from their money. They are always sad, but sometimes a little funny because of the absurd situations. The best part of American Greed is the voice of the narrator, Stacy Keach. He always sounds SOOOO SHADY!

I like to have the TV on while I'm writing or researching. Most of the time it is on a show I don't need to have eyeballs on at all times to understand, which often means watching reality TV. I'm currently waiting for the most recent seasons of Real Housewives of Atlanta and Real Housewives of Potomac to become available on Hulu. Until then, I'm watching season 10 of Keeping Up with the Kardashians. When I'm not binging trashy reality TV, I've started watching the entire series of CSI: Miami for the first time because … the heat is on …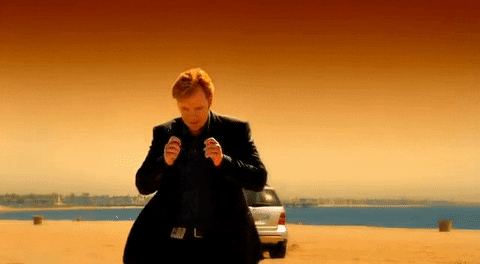 It took me a while to get on the bandwagon for This Is Us, but I'm glad I finally came around. If you enjoyed Parenthood, then you will probably really like This Is Us. Plus, the generational past, present, and even future story takes it to the next level. I know a lot of people avoid the show because it has been labeled a tearjerker. This Is Us is not a show that brings you to tears every episode. Sometimes I shed a thug tear, but it's because I've been moved by the show's beautiful storytelling.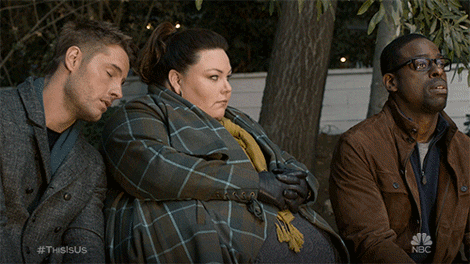 What are your favorite TV shows of all time?